Welcome to Coldharbour Framery & Gallery
We are a picture framer's and art gallery based in north Bristol,  located on Coldharbour Road amid a small parade of independent, artisan shops and galleries. In the framery we offer a bespoke picture framing service for all types of artwork.  In the gallery, we stock a wide range of affordable art & crafts by local artists, including original art, prints, sculpture, glass, ceramics and gifts.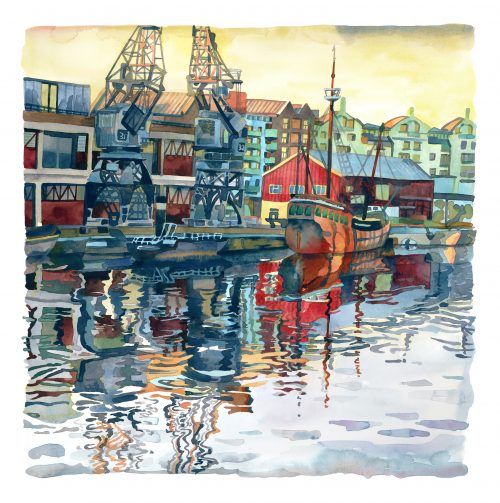 New in for Autumn
Autumn is here, in all its glory - and it's a busy time in the gallery, with lots of lovely new things arriving, in gorgeous rich colours. We have new original paintings as well as prints from both Abigail McDougall (above), with her new set of Bristol paintings  and Jenny Urquhart (below) with a series based on local woodlands, plus lanterns galore to light up as the evenings draw in...


Coming up: Magic, Myth & Moonlight - Christmas Show & Open Evening
We are really looking forward to our Christmas Show this year, with contributions from various artists along the theme of 'Magic, Myth and Moonlight'. Taking centre stage will be Jay Luttman-Johnson, who not only creates beautiful hand-painted lino-cuts, but also incorporates them into the most fabulous enchanting 3D structures made from recycled materials - see the Ark below!
Come and meet Jay, along with our other artists, over a glass of mulled wine at our annual Christmas Open Evening on Friday 30 November from 6 - 8pm. If you can't make it, then the Christmas show will be on from Saturday 1st December, with lots of lovely things to see.